The Theosophy Wales
King Arthur Pages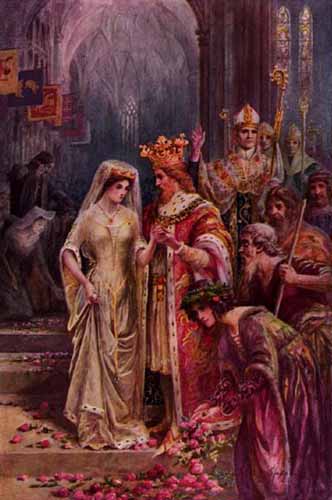 King Arthurís
Marriage to Guinevere
Kings Arthurís Round Table
Eamont Bridge,
Nr Penrith, Cumbria, England.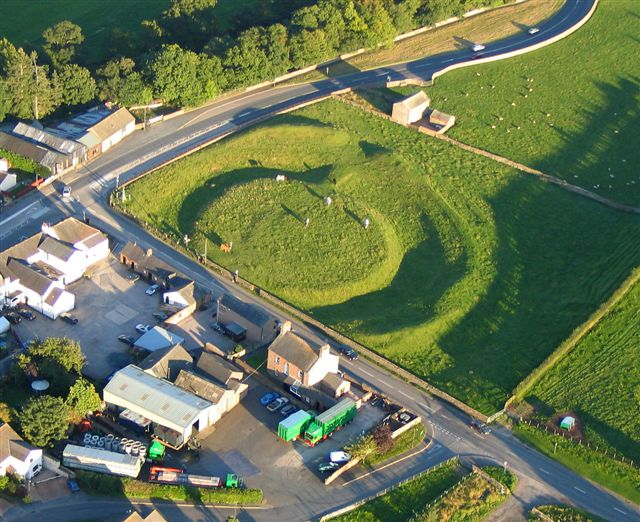 The Circular Neolithic Earthwork at Eamont Bridge
on the A6 south of Penrith, Cumbria, England.
The B5320 to Ullswater has covered part of the circle.
This candidate for King Arthurs Round Table is a Neolithic circular earthwork bounded by a ditch and an outer bank, at Eamont bridge, just South of Penrith, Cumbria, England and about a quarter of a mile from Mayburgh Henge.
The circle consists of an irregular bank surrounding a circular ditch about 40 feet wide and 5 feet deep. In the seventeenth century two standing stones were recorded near the northern entrance, though both are now long since gone, and this part of the henge lies beneath the road to Ullswater.
The site pre-dates the accepted King Arthur period by at least 2500 years† but is located near the Roman fort of Brocavum which may have been an important Celtic stronghold inside the Celtic Kingdom of North Rheged which existed at King Arthurís time.
The 13th century Brougham Castle now stands on the site of Brocavum Roman Fort.
Theosophy
Avalon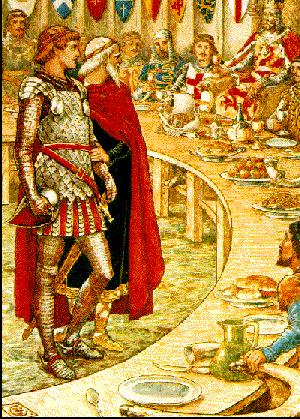 King Arthur &
The Round Table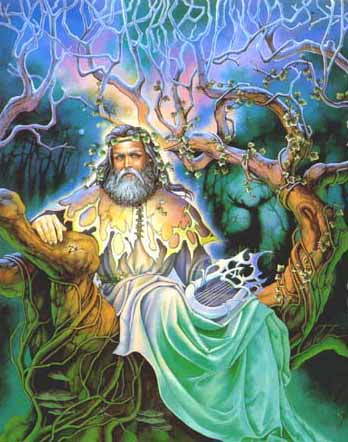 Merlin & The Tree of Life
Merlin the Magician
Born circa 400 CE ; Welsh: Myrddin;
Latin: Merlinus; English: Merlin.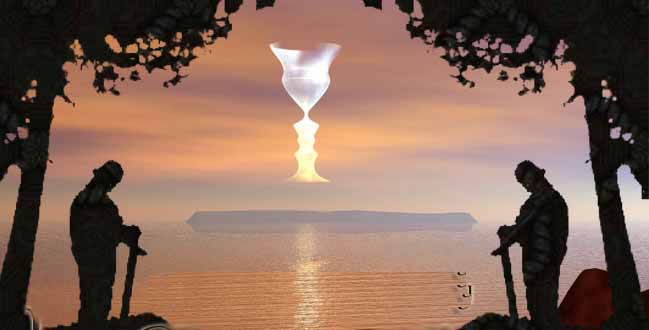 The Theosophy Wales
____________________
General pages about Wales, Welsh History
and The History of Theosophy in Wales
Theosophy links
†††††††††††††††††††††††††††††††††††††††††††††
Independent Theosophical Blog
One liners and quick explanations
About aspects of Theosophy
H P Blavatsky is usually the only
Theosophist that most people have ever
heard of. Letís put that right
The Voice of the Silence Website
An Independent Theosophical Republic
Links to Free Online Theosophy†
Study Resources; Courses, Writings,†
A selection of articles on Reincarnation
by Theosophical writers
Provided in response to the large†
number of enquiries we receive at†
Cardiff Theosophical Society on this subject
The Voice of the Silence Website
The Spiritual Home of Urban Theosophy
The Earth Base for Evolutionary Theosophy
Theosophical Glossary
Published 1892
A B C D EFG H IJ KL M N OP QR S T UV WXYZ
Try these if you are looking for a
local Theosophy Group or Centre
UK Listing of Theosophical Groups
Wales Theosophy Links Summary
All Wales Guide to Theosophy Instant Guide to Theosophy
Theosophy Wales Hornet Theosophy Wales Now
Cardiff Theosophical Archive Elementary Theosophy
Basic Theosophy Theosophy in Cardiff Theosophy in Wales
Hey Look! Theosophy in Cardiff Streetwise Theosophy
Grand Tour Theosophy Aardvark Theosophy Starts Here
Theosophy 206 Biography of William Q Judge
Theosophy Cardiffís Face Book of Great Theosophists
Theosophy Evolution Theosophy Generally Stated
Biography of Helena Petrovna Blavatsky
Please click here for Current Theosophical Events in Cardiff
Theosophy has no dogma, no priesthood or diploma elite †
and recognizes no spiritual head.
All ideas presented at meetings are for consideration.
Please click here for Current Theosophical Events in Cardiff
Cardiff Theosophical Society in Wales